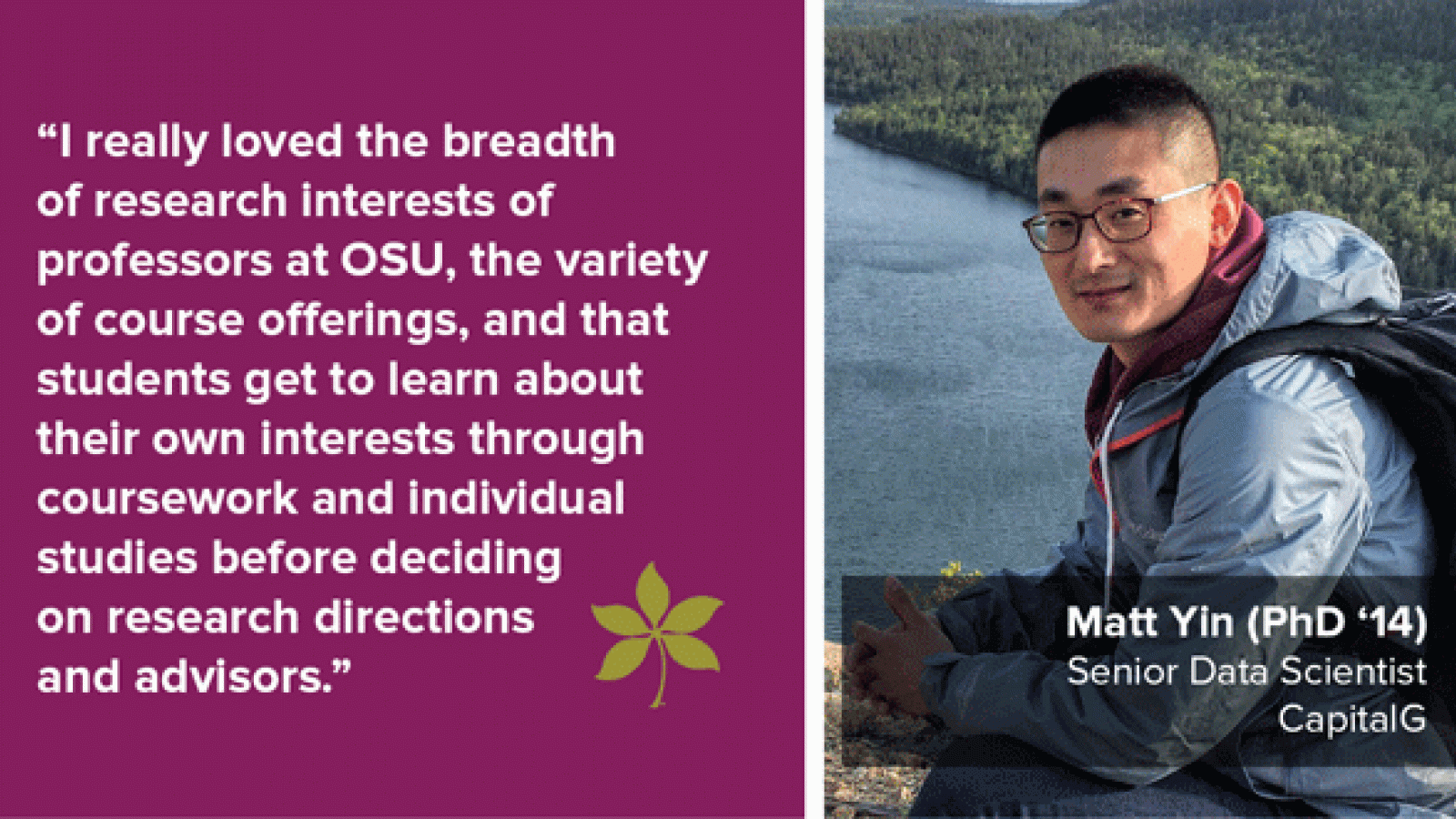 Body
Below are answers to frequently asked questions about our program. Refer to our Program Guide for additional information.
In What Areas Does Your Department Specialize?
The department has strong research programs that span the breadth of Statistics. Our faculty are actively engaged in the development of new statistical models and the methodology, theory and computation that support them. Having large groups working on Bayesian methods, Biostatistics, Computational Methods, and Statistical (Machine) Learning, faculty are experts with modern methods for high-dimensional, "big data". The environment is collaborative, with research teams tackling substantive questions, many of which transcend disciplinary boundaries and include faculty and students throughout the university. Our research strengths and environment translate into educational programs with strong and comprehensive curricula that train our students for careers in academia, industry and government. See our faculty profiles for details on each of our faculty and refer to our Dissertations and Theses page for more information on recent PhD dissertations and MS theses.
What Is the Difference Between the MS and MAS?
The goal of the Master of Applied Statistics (MAS) is to prepare graduate students to enter positions in applied statistics in business, industry and government. The MS in Statistics degree can act as either a terminal degree or as a stepping-stone to the PhD program. The requirements for this degree are more theoretical than those for the MAS. This degree program is flexible enough to provide preparation for a career in applied statistics or it can be composed entirely of the first two years of coursework for the statistics or biostatistics PhD programs. Note that admission to the MS program does not guarantee admission into either of our PhD programs.
At Ohio State, How do the Statistics and Biostatistics PhD Programs Differ?
Here at Ohio State, our statistics and biostatistics PhD programs are closely coordinated. In particular, the first year of courses are identical, and biostatistics PhD students at Ohio State typically earn a MS in Statistics. After the first year, typical course work begins to diverge across the statistics PhD and the two specializations of the biostatistics PhD. Biostatistics PhD students are required to take courses more geared toward applications in public health, biology and medicine, such as survival analysis, statistical genetics and epidemiology. We encourage students interested in biostatistics to look carefully at the program guides for both the statistics and biostatistics PhD programs. In addition to different required course work, statistics and biostatistics PhD students choose advisors from different, but overlapping, pools of faculty. Statistics PhD students choose advisors from the faculty in the statistics department. Biostatistics PhD students choose advisors from the faculty in the Biostatistics Division of the College of Public Health or a subset of faculty in the statistics department, as listed on the biostatistics PhD website. 
How Many Years Does Each Degree Take to Complete?
Each master's degree typically takes two years to complete. The PhD programs typically take about five years to complete although it is possible to finish in less time, depending on your dissertation progress. Most students do not take classes in the summer and many participate in internships during the summer break. We are careful to admit only students who we believe will be successful in our program. Consequently, our graduation rate is very high.
Can I Pursue the Program Online?
Our required courses are offered during daytime working hours Monday through Friday. We do not offer distance learning programs at the present time.
Who Will Be My Advisor?
Unlike some other departments, we admit students to the statistics department to work in statistics or biostatistics, but not to work with a particular faculty member. Statistics has typically been a graduate discipline and students do not usually arrive with enough background to know in what area they will eventually do their research. The Graduate Studies Chair of Statistics serves as the advisor for all master's students through graduation. MS students who opt to pursue a thesis (as opposed to the MS exam) may choose a different advisor once a research area is established. The Graduate Studies Chair of Statistics serves as the advisor for the statistics PhD students in their first two years and the Graduate Studies Chair of the biostatistics PhD program serves as the advisor for the new biostatistics PhD students. We suggest that PhD students take some independent studies courses in their first two years with faculty members they might like to work with. Students, together with faculty members, decide who will be their PhD dissertation advisor(s) and committee members.
Can I Transfer Graduate Credits from Another Institution?
While we do not typically transfer credits from another institution to count towards the required credit hours for our degrees, we do not require students to repeat courses that they have taken elsewhere. However, students are required to replace those hours with alternative courses and will be responsible for the material on the departmental master's exam or qualifier exams.
If you have already completed a master's degree in statistics elsewhere, depending on how similar that program was to ours, you may be able to take the Qualifier I exam the autumn semester of your first year and start with your second year of course work.
What Exams Are Required for the Degrees?
Students pursuing the MAS are required to pass the MAS exam. The MS degree has a thesis option and a non-thesis option. Students pursuing the MS (non-thesis option) are required to pass the MS exam.
We have two sets of qualifying exams for PhD students. Students generally take Qualifier I at the end of their first year. Some students who already have a master's in statistics take these exams as soon as they get here, but that is not the norm. Qualifier I covers the first year of PhD coursework. Qualifier II is taken in the fall of the third year. Students are also required to complete a Candidacy Exam once course work is completed and a Final Exam to defend their dissertation in their final term.
Each of the MAS, MS, Qualifier I and Qualifier II exams may be taken a second time if a student does not pass on the first try. PhD students may also take the candidacy exam and final exam twice if necessary. We do have a good passing rate for the exams. We bring in students who we think can do the work and will pass the exams!